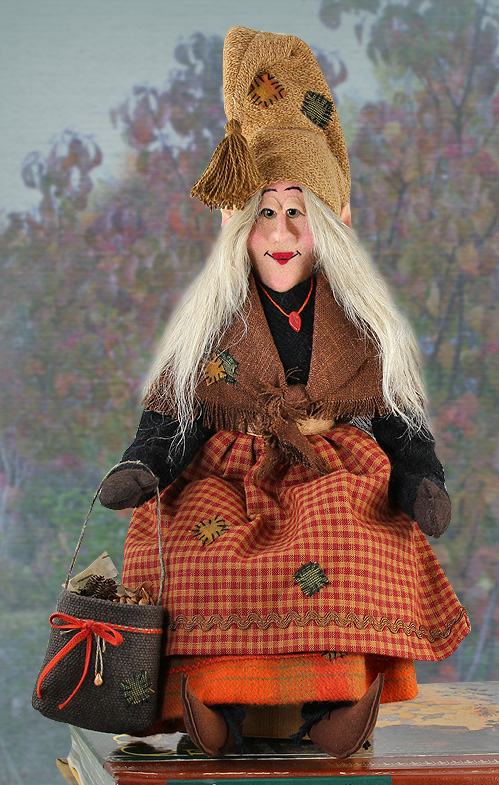 Brekka comes with a felt-covered wire back rest. This allows her to sit upright on shelves, without having to lean on anything. Click here for back rest image.

We use no molds for our figures - each face is handsculpted, one at a time, which means each face is different. This is what makes each handmade doll unique. While the faces of the men elf dolls do vary a little, the faces and the hair of the lady dolls vary greatly from doll to doll, so each lady doll's face is photographed individually.
Brekka loves the beautiful forest that surrounds her tiny home. She is especially fond of taking long walks, collecting some of nature's treasures, like pine cones and birch bark, to use, or decorate with, in her house.

Brekka is wearing a yarn-dyed cotton flannel skirt in muted shades autumn, and a thick french terry knit shirt of organic cotton and hemp. She has a yarn-dyed cotton apron trimmed with ric-rac, and a linen/ramie shawl, to keep her snug. She has beige cotton velveteen legs, and is covered with handstitched patches. She wears a beautiful organic color-grown french-terry knit hat, topped with an organic cotton yarn tassel. Colorgrown means that no dyes are used - the cotton grows in the USA already in this beautiful shade of gold. A glass leaf necklace completes her outfit.

From one arm Brekka holds her tote, made from hemp, and trimmed with organic cotton yarn, an organic cotton braid bow and a small glass bead. (It's fun to note that the delicate hand-dyed braid used in both the tote and to trim Brekka's skirt, is made in South Carolina with an antique braiding machine and 13 strands of organic cotton yarn). Her tote is filled with birch bark, hemlock and alder cones. (Please note that all natural materials such as cones, bark or sticks, are high-heat dried prior to use)

Brekka is 14" tall (12" when seated), as measured from the top of her head (not the top of her hat) to the bottom of her boots.

Brekka's face is hand sculpted using felt over clay. Her eyes are handblown/handpainted German glass. Her hair is made from natural flax fiber (grey) or natural hemp fiber (white). She is stuffed with a combination of recycled glass pellets and organic cotton stuffing. Her arms are wired. All of our dolls are 100% vegan.