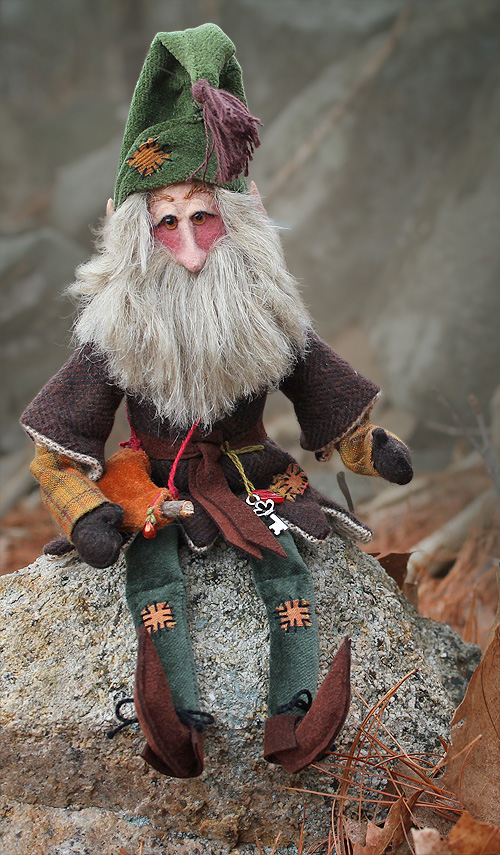 A representative of Atle is shown in the photo above. We use no molds for our figures. We handsculpt each face, one at a time, which means each face is slightly different and will not look exactly like the face in the photo. This is what makes each handmade doll unique.

Atle comes with a "Folklore of the Nisse" story tag, and a solid maple seat.
Atle lives in one of the least populated sections of the forest - unpopulated by Nisser that is! For the area around Atle's tiny wooden cabin is filled with other wonderful neighbors - from small friendly rock voles to tall brave moose. Each morning after breakfast, Atle grabs his water flask and eagerly rushes out the door to spend time with his fellow woodland creatures.

Atle has a yarn-dyed cotton flannel tunic as well as yarn-dyed cotton sleeves. His hat, which is topped with an organic cotton yarn tassel, is cotton velveteen. His legs are also cotton velveteen. Atle's boots are ultrasuede. A glass leaf key chain, orange on one side and gold on the other, hangs from his ultrasuede belt, and holds a small pewter key.

An old-style velveteen water flask, embellished with a small glass bead, hangs around Atle's shoulder.

Atle's face is bamboo felt. We sew his beard from natural flax fiber (blondish-grey in color).
His amber eyes are hand blown and hand painted German glass. He is stuffed with a combination of recycled glass pellets and organic cotton stuffing. His arms are wired. Unlike his larger cousins, his head does not turn.

Atle comes with a solid pine seat. He is 9" tall (8" when seated), as measured from the top of his head (not the top of his hat) to the bottom of his boots. (View here the design details for the small nisse.)
All of our dolls are 100% vegan.